Frame Photo Editor v1.0.0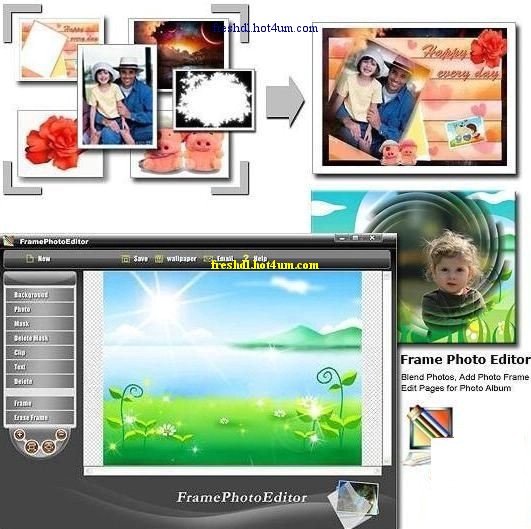 Frame Photo Editor v1.0.0
Frame Photo Editor - Easily Enhance Your Pictures & Desktop, Make Your Pictures Unique
Frame Photo Editor is a digital photo & desktop enhancement software. With it, you can easily blend your digital photo onto another picture or photo to create unique effect. You can also add flowers, cartoon pictures, or pretty frame onto your pictures with it.
Makes your photo unique
With a few mouse clicks, you can generate an attractive picture with Frame Photo Editor. It provides a lot of items you could use in your pictures, such as flowers, cartoon pictures, frames. And we'll provide more in the future.
Frame Photo Editor is an easy to use photo editing software. You can add cool frames to your photos very quickly and easily. Resize, rotate, adjust color and add text to your pictures. Then you can mail to your friends or set as your desktop wallpaper. So, it can also enhance your desktop. Frame Photo editor makes you working with your digital photos as easy as possible!
-- With Frame Photo Editor, you can easily enhance your photo effects by blending your digital photos onto another image. The photo will be masked as special effect which you can select from a lot of masks that Frame Photo Editor provides. You can also easily add cool frame, pretty flowers and cartoon clips onto your pictures. And you can insert text into pictures with speech frame. It makes your photo more interesting and attractive.
-- You can easily change the size and position of the photos, flowers, cartoon pictures or text just by clicking and dragging them. You can even rotate the mask or the photo just with your mouse moving.
-- After having edited pictures with Frame Photo Editor, you can print them, email them, or set as your Desktop Wallpaper. You may also upload onto website, your album on Internet etc. It's also a photo album page maker.
Main Features of Frame Photo Editor includes:
> Very easy to use. You can do most operations only by mouse.
> You can blend several photos together softly with plenty of mask effects.
> You can insert flowers, cartoons, and other templates which FramePhotoEditor provides into your photo.
> You can write text comments into your picture with speakingframes.
> You can frame your photo.
> You can easily set your framed photos as the wallpaper of your PC within the program.
> You can e-mail your framed photos to your friends directly from within the program.
> The Online Gallery will provide more templates and pictures used in your photo editing.
> You can also snazz up your mobiles, t-shirts, cups and any other item you can think of - there is just no limits as to what you can do!
Download More Templates From Homepage.
System Requirements:
Windows XP or later version
700 MHz processor
256 megabytes (MB) or higher of RAM
1GB of available hard-disk space or higher
For mail output, a 32-bit MAPI mail client
XGA (1024x768) or higher resolution monitor
DOWNLOAD:
Code:

http://rapidshare.com/files/61584574/FrPhEd.rar
PASSWORD:
Code:

Augustiner
or
www.freshdl.forumotion.com