Manga Jongg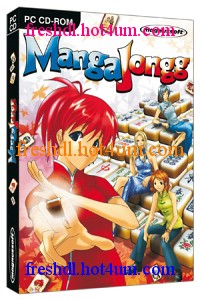 Manga Jongg
Developed by: Magnussoft
Published by: Magnussoft
Genre: Logic (Board/Classic / Puzzle)
Language: English
Release date: 16.09.2007
Size: 32 Mb
MangaJONGG is the latest incarnation of the famous traditional chinese boardgame. But MangaJONGG goes even further and combines two popular and well loved elements: fareast Manga graphicsstyle and the wellknown gameplay of the classic boardgame. ManagJONGG requires strategic thinking and a little luck and challenges the beginner as well as the seasoned Mahjong veteran. Different themeworlds provide you with hours and hours of fun and entertainment. Each tile is a little piece of art. You will find the traditional Mahjong tiles as well as tiles from themeworlds such as pirates, music, space, horses or sports.
Features:
- 8 gorgeous backgrounds and tilesets to choose from
- 8 different layouts
- 3 levels of difficulty
- many hidden easter eggs
- available in english, german and japanese
Download:
Code:

http://w15.easy-share.com/11926831.html
PASSWORD:
Code:

www.freshdl.forumotion.com

_________________
comming soon......
Forum with features like
*upload links of each file on five different servers.....
* a Forum which gives you gifts like rapidshare premium account,
free fully activated adwords account with 50$ in it..
nd much more exciting gifts......
* huge collection of softwares,Games., ebooks, music,movies,tv shows,etc
* nd many ......
every thing at........ latestdlz......