Xpand Rally Xtreme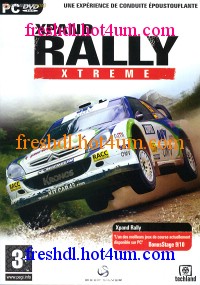 Xpand Rally Xtreme
Developed by: Prominence и Techland
Published by: Prominence и Techland
Genre: Racing (Cars) / Simulator / 3D
Language: English
Release date: 17.09.2007
Size: 265 Mb
WRC racing simulation. Sequel of the world best seller Xpand Rally from Techland - straight competitor to Colin McRae series games. Prominence S.C. joined its experience gained during the GTI Racing production with the Techland experience from Xpand Rally to develop game that push the rally game driving experience to a new extreme and astonishing level. Basing on the modified Xpand Rally Chrome engine we manage to create highly demanding racing tracks which patterns ware taken from the most difficult Special Stages in rally season. The gamer should feel very intensively all tight turns, curves, holes, jump hills, unevenness, stones that may severally harm and destroy the car, in the way never seen in any rally game yet. The car feels "alive", something is always happening to the car, it is always driven into something, hitting something, the vibration and damages are felt all the time. Only proper car tuning, watchful driving, and exact following the co driver race description, let you achieve acceptable racing times and prevent your car from destruction. Beside the ghost racing mode already known in Xpand Rally Prominence adopted and modified AI from the GTI Racing. It resulted in adding 3 new racing modes: on close loop dirt track - similar to close track Special Stages that usually begin rally races, offroad races against monster and powerful tracks and offroads and finally on track racing in super cars that feature hundreds of KM's.
Download:
Code:

http://w15.easy-share.com/11926431.html
http://w15.easy-share.com/11922991.html
http://w15.easy-share.com/11923761.html
http://w15.easy-share.com/11924331.html
http://w15.easy-share.com/11924751.html
http://w15.easy-share.com/11925321.html
http://w15.easy-share.com/11925941.html
PASSWORD:
Code:

www.freshdl.forumotion.com

_________________
comming soon......
Forum with features like
*upload links of each file on five different servers.....
* a Forum which gives you gifts like rapidshare premium account,
free fully activated adwords account with 50$ in it..
nd much more exciting gifts......
* huge collection of softwares,Games., ebooks, music,movies,tv shows,etc
* nd many ......
every thing at........ latestdlz......